Who are we?  Just about the best Mercury Outboard repair shop around!  For over 45 years The Outboard Shop has been servicing ALL sizes of Mercury Outboards.
Famous for our diverse Mercury Parts Inventory the Outboard Shop has become known as the "place" to get your parts.
Being a Mercury Marine 100% CSI (Customer Service Index)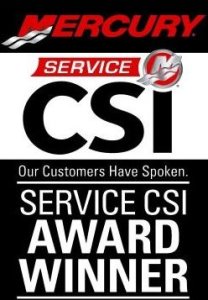 Winner year after year means we take our customers satisfaction very seriously and we take pride in this award.
Only the BEST Mercury Outboard Dealers get this award and it means we have the highest Dealer rating as a Premiere Dealer.
Tow your boat in to our full service shop or schedule a haul at the boat ramp in Pompano Beach.  We can take care of your Merc(s)!
We are located at :  1585 N. Dixie Hwy Pompano Beach, FL 33060
Give us a call at: Phone  954-781-5611     Fax 954-785-6677